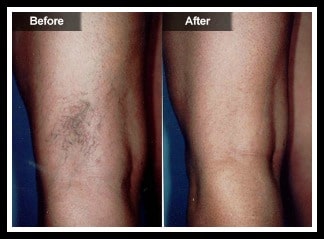 Spider Vein Treatment
We have been successfully providing Sclerotherapy (Spider Vein Therapy) for 20 years. These treatments can significantly improve your well-being and create a more youthful look and feel.
Sclerotherapy is still considered the gold standard treatment of choice for spider veins. The treatment is minimally invasive. Sclerotherapy involves injecting a solution directly into the vein that causes it to sclerosed and collapse, forcing blood to reroute through healthier veins. The procedure also can improve related symptoms such as aching, swelling, and burning. Treated veins tend to fade within a few weeks, although occasionally it may take up to two months to see the full results. In some instances, several sclerotherapy treatments may be needed to accomplish the desired results. Let us help you look and feel your best. The best time to work on spider veins is fall and winter months, so make your appointment now.